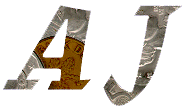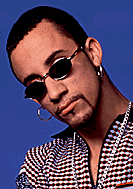 Name: Alexander James McLean
Nicknames: A.J., Bone Mr. Cool
Birthdate: January 9, 1978
Age: 21
Zodiac Sign: Capricorn
Birth Place: West Palm Beach, FL
Current Residence: Kissimee, FL
Hair: Brown
Weight: 130 pounds
Height: 5'9"
Eyes: Brown
Family: Mother- Denise, Father- Bob (Divorced when he was four)
Heritage: Spanish/Scottish
Pets: Dachshund- Tobi Wan Kenobi
First Ambition: To be an entertainer or a police officer
Fave Singer/Producer: Babyface
Fave Music Groups: Blackstreet, Boyz II Men
Fave Song: All-4-One's "I Swear"
Fave Movie: Pulp Fiction
Fave Actors: Samuel L. Jackson
Fave Actresses: Geena Davis
Fave T.V Shows: Boy Meets World, Seinfeld
Fave Food: McDonalds
Fave Breakfast: Eggs, Bacon, and Toast
Fave Midnight Snack: Hershey's Cookes And Cream Chocolate Bar Fave Snack: Tostidos
Fave Candy: Jelly Beans
Fave Ice Cream: Vanilla w/ caramel topping or mint chocolate chip
Fave Drink: Mountain Dew or Iced Tea
Fave Color: Yellow (sometimes purple)
Fave Cars: 1998 Yellow SLK Mercedes
Fave Clothes: Baggy styles. He likes designers like Tommy Hilfiger, CK, DKNY, F8, and Dada
Fave Deodorant: Gillette
Fave School Subject: English, History
Least Fave School Subject: Math
Fave Cologne: CK One
Fave Sports: Billiards, Basketball, Volleyball
Fave Pastimes: Going to the movies, clubbing, shopping
Fave Saying: "It's gonna be funky"
Distinctive Traits: He wears 10 rings at one time.


Back to AJ PAGE

Got any suggestions just please, e-mail me.